20 Jan 2016

Women Now More Educated Than Men; New Data Shows Women – Men Education Gap Across U.S. Metros

Recently released data from the U.S. Census Bureau's American Community Survey illuminates which metros have a higher percentage of women than men, holding at least a bachelor's degree.

Bachelor's degree holders constitute 30% of the 2014 U.S. population 25 years and older and for the first time the data shows conclusively (accounting for margin of error) that there are more women (30.2%) than men (29.9%) with bachelor's degrees or higher. In 2009, men (28.4%) were more educated than women (27.4%) but over 5 years women with degrees rose 2.8 percentage points while men increased only 1.5 points.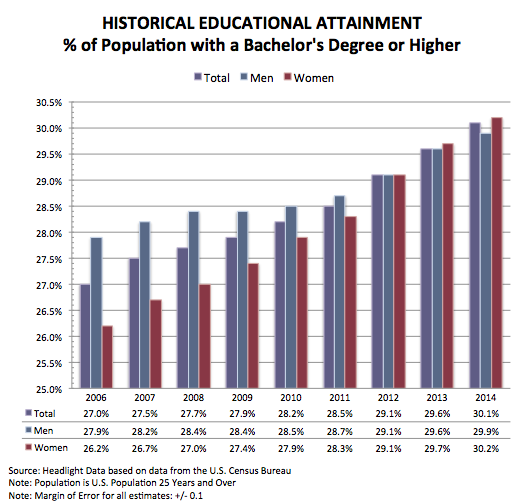 Among large metros, women are better educated than men the most in Richmond-VA (+2.6 pts.), followed by New Orleans-LA (+2.1 pts.), Minneapolis-MN (+1.5 pts.) and Grand Rapids-MI (+1.1 pts.). Other large metros with a high ratio of educated women to men are Virginia Beach-VA, Memphis-TN and Denver-CO.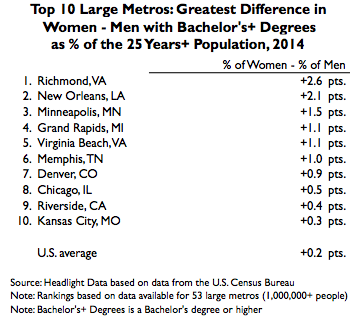 Of the 53 large metros, just one-third (17) have a larger percentage of educated women than men, an indication that educated men and women aren't distributed evenly across the US.
Among mid-sized metros, women are better educated than men the most in Albuquerque-NM (+4.4 pts.), followed by Springfield-MA (+4.2 pts.), Portland-ME (+3.9 pts.) and Columbia-SC (+3.1 pts.).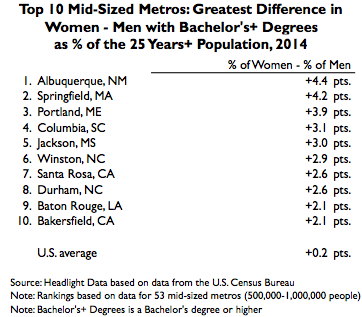 Research, analysis and content developed by Headlight Data.  Original data from the U.S. Census Bureau.  
About Headlight Data:
Headlight Data is an award-winning online data aggregator, designed for economic and workforce development organizations, that provides online, decision-support tools on the economy, demographics, education, workforce and public policy.
Download Section:
Click here to download a spreadsheet of the data.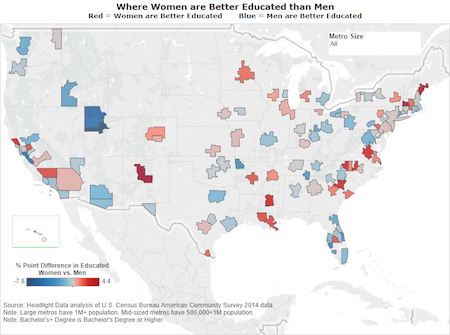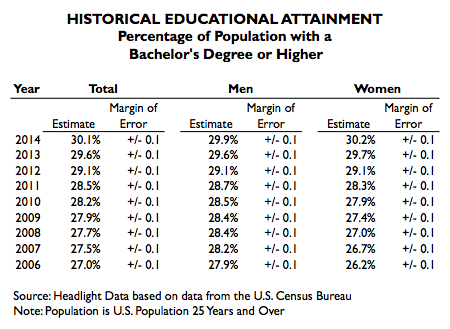 Previous Post
Recently released data from the U.S. Census Bureau's American Community Survey illuminates which mid-sized metros ... Read more
Next Post
Recently released data from the U.S. Census Bureau's American Community Survey illuminates which metros have ... Read more