09 Aug 2017

US Manufacturing Industry Enjoys Longest Growth Streak in 30 Years but Growth in 2016 Slows

Today, Headlight Data released its annual rankings of the fastest-growing US counties in manufacturing. Visit our News page to see top performing counties in 8 selected manufacturing industries and manufacturing overall.

Starting in 2011, the US Manufacturing Industry has created jobs every year since then, a 6-year expansion that exceeds the 5-year expansion experienced 1994-1998. The Manufacturing industry has created nearly 500,000 new jobs in the last 6 years, led by the following twelve industries, in order of growth rate:
Beverages : 39% growth (66,000 new jobs)
Transportation equipment: 20% (270,000)
Plastics and rubber products: 12% (75,000)
Wood products: 9% (31,000)
Fabricated metal products: 8% (109,000)
Food products: 7% (95,000)
Machinery: 5% (50,000)
Nonmetallic mineral products: 4% (15,000)
Primary metals: 3% (10,000)
Electrical equipment and appliances: 2% (9,000)
Furniture and related products: 1% (6,000)
Chemicals: 1% (10,000)
Manufacturing industries that have lost jobs are:
Tobacco: -32% growth (-6,000 jobs)
Apparel: -23% (-39,000)
Printing: -15% (-76,000)
Paper: -9% (-36,000)
Textile mills: -8% (-10,000)
Textile product mills: -8% (-10,000)
Computer and electronic products: -8% (-88,000)
Petroleum and coal products: -3% (-4,000)
Leather and allied products: -0.2% (-100)
But, a strong word of caution: manufacturing growth is slowing significantly. The Manufacturing Industry grew just 0.03% in 2016, creating only 4,000 new jobs. While these numbers will be revised when 2017 data is released, a clear trend is shown by the following chart: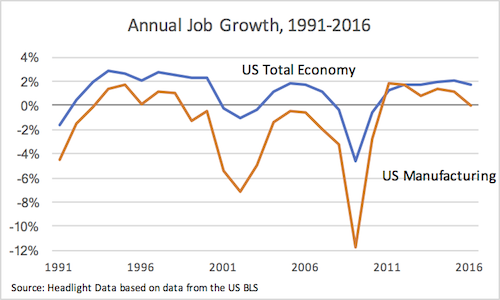 Within the US, several counties stood out in their ability to attract the most jobs in manufacturing industries:
Click the industries in the county list above to link to complete lists of best and worst performing counties in the US for each manufacturing industry.
Previous Post
Recently released data show that Food Manufacturing job creation in 2016 across counties in the ... Read more
Next Post
Recently released data from the Bureau of Economic Analysis illuminates which mid-sized metros have the ... Read more