01 Nov 2016

U.S. Real Median Wage Increased 1.3% in the Last Decade; Highest Median Wage Growth Found in San Antonio, Pittsburgh, and San Jose

The real median wage in the U.S. increased 1.3% from 2005 to 2015, after accounting for inflation. Looking at wage performance across the spectrum of wage levels, Ultra-High Wage Earners enjoyed the fastest growing wages (+8.1% at the 90th percentile) and Low-Wage Earners saw declining wages (-1.9% at the 25th percentile). Ultra-Low Wage Earners saw positive wage growth (+2.9% at the 10th percentile).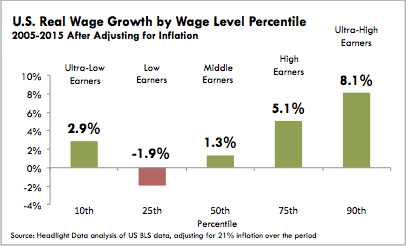 Wage levels varied from $19,000 per year at the Ultra-Low Wage level (10th Percentile) to $92,000 per year at the Ultra-High Wage level (90th Percentile).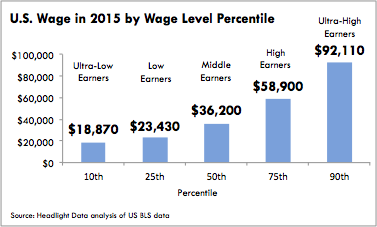 Across the 53 largest U.S. metros (with 1+ million population), San Jose ($59,000), Washington, DC ($51,000) and San Francisco ($50,000) had the highest median wage in 2015. Orlando ($31,000), Memphis ($32,000) and San Antonio ($32,000) had the lowest.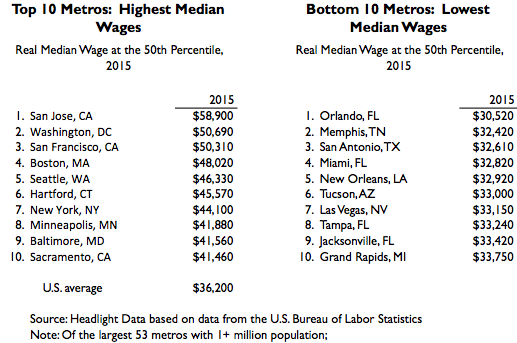 The highest growth in median wages was in San Antonio (+10%), Pittsburgh (+8%) and San Jose (+7%). Detroit had the lowest median wage growth (-13%), followed by Grand Rapids (-8%) and Atlanta (-5%).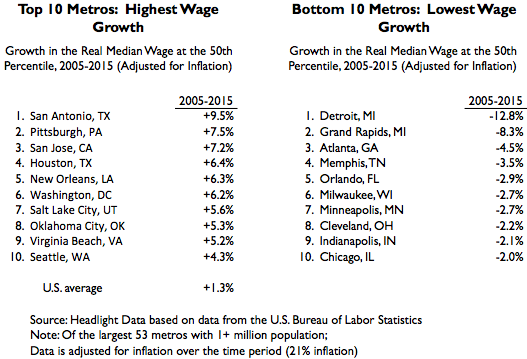 Click here to read our article on wage growth by percentile.
Research, analysis and content developed by Headlight Data. Original data from the U.S. Bureau of Labor Statistics.
About Headlight Data:
Headlight Data is an award-winning online data aggregator, designed for economic and workforce development organizations, that provides online, decision-support tools on the economy, demographics, education, workforce and public policy.
Download Section:
Click here to download a spreadsheet of the data. 
Permission is granted to embed maps in any website. Click the "Share" button on the maps above to get the embed code.
Static maps images for download: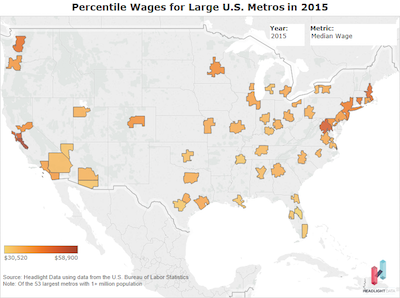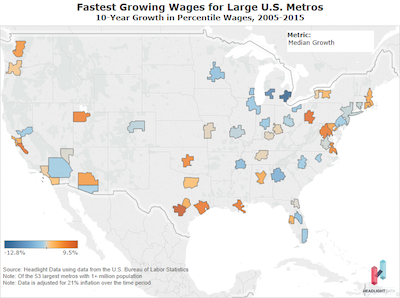 Previous Post
Women in the US are more likely to be unemployed than men – meaning, more ... Read more
Next Post
At the High Wage level (75th percentile), the metros that generated the most wage growth ... Read more