05 Jan 2016

Top Mid-Sized Metros for Retirees are North Port-FL, Cape Coral-FL, Deltona-FL; Bottom are Provo-UT, Ogden-UT, Bakersfield-CA

Recently released data from the U.S. Census Bureau's American Community Survey illuminates which mid-sized metros are host to the greatest percentage of adults aged 70 years or older.

Retirees constitute 9.3% of the U.S. population. Among mid-sized metros, the highest percentage of retirees is found in North Port-FL (21.3%). Cape Coral-FL (17.8%), Deltona-FL (16.6%) and Palm Bay-FL (15.8%) follow. Other mid-sized metros with a high share of retirees are Youngstown-OH, Lakeland-FL and Scranton-PA.

The metros with the lowest percentage of retirees are Provo-UT (4.7%), Ogden-UT (6.7%), Bakersfield-CA (6.7%) and McAllen-TX (7.1%). Fresno-CA, Colorado Springs-CO and Des Moines-IA also have a low share of retirees.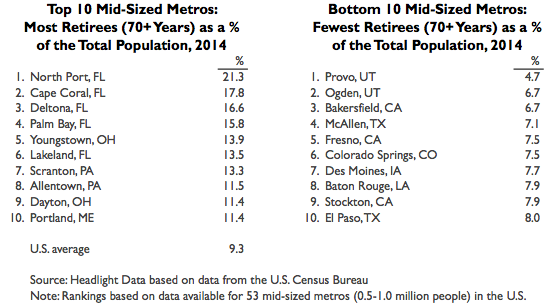 From 2009 to 2014, retirees' share of the U.S. population increased by 0.3 percentage points. The mid-sized metros with the greatest 5-year increase in the percentage of retirees are Portland-ME (+1.5 pts.), Cape Coral-FL (+1.5 pts.), Boise City-ID (+1.4 pts.) and North Port-FL (+1.3 pts.). Durham-NC, Greenville- SC, Santa Rosa-CA and Youngstown-OH also increased by more than 1 percentage point.
Des Moines (-0.6 pts.), Honolulu-HI (-0.5 pts.) and Little Rock-AR (0.0 pts.) had the greatest decrease from 2009 to 2014. Chattanooga-TN, Palm Bay-FL and McAllen-TX also rank in the bottom 10.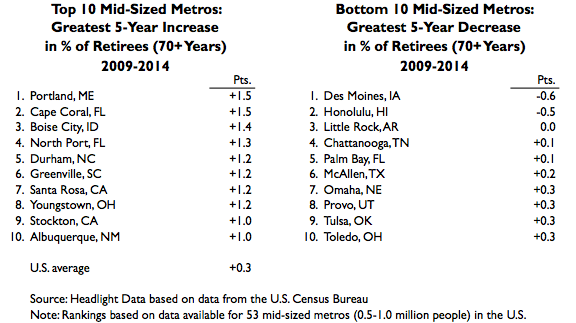 Research, analysis and content developed by Headlight Data.  Original data from the U.S. Census Bureau.  
About Headlight Data:
Headlight Data is an award-winning online data aggregator, designed for economic and workforce development organizations, that provides online, decision-support tools on the economy, demographics, education, workforce and public policy.
Download Section:
Click here to download a spreadsheet of the data.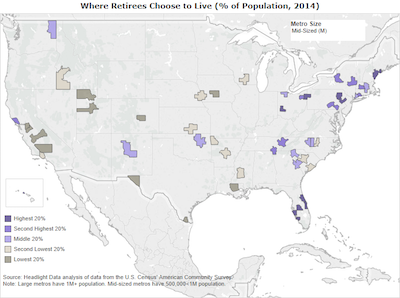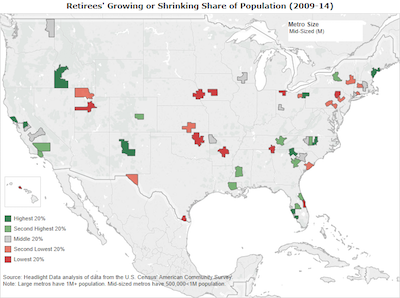 Previous Post
Recently released data from the U.S. Census Bureau's American Community Survey illuminates which mid-sized metros ... Read more
Next Post
Recently released data from the U.S. Census Bureau's American Community Survey illuminates which large metros ... Read more