07 Jul 2015

Top 10 Small Metros with the Fastest Wage Growth in 2014: Salaries Grew Fastest in Midland-TX, Decatur-IL, Lake Charles-LA; Slowest in Janesville-WI, The Villages-FL, Fayetteville-NC

Recently released data show that wages grew 3.1% in 2014 in the US, the fastest growth in the past seven years – since 2007 at the peak of the pre-recession boom (4.5%).

Across small metros in the US, wage growth varied from a high of 9.8% in Midland, TX to -4.9% in Janesville, WI.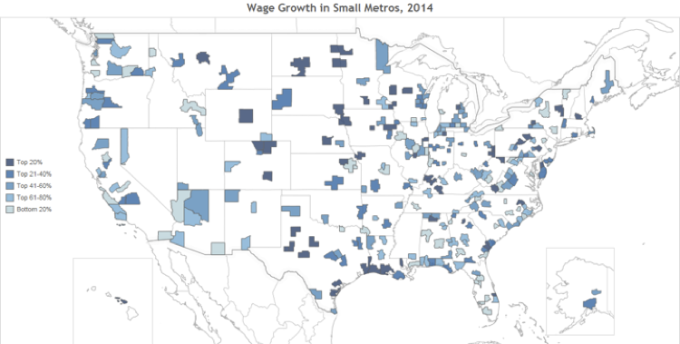 Small metros with the fastest growing wage levels (average salary across all industries) in 2014 were Midland, TX; Decatur, IL; Lake Charles, LA; Midland, MI; and Bismarck, ND.
Small metros with the slowest wage growth were Janesville, WI; The Villages, FL; Fayetteville, NC; Homosassa Springs, FL; and Santa Cruz, CA.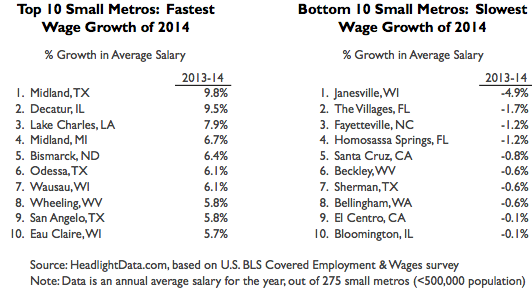 Click here to download a spreadsheet of data for all metros.
Previous Post
Recently released data show that wages grew 3.1% in 2014 in the US, the fastest ... Read more
Next Post
Recently released data show that wages grew 3.1% in 2014 in the US, the fastest ... Read more