01 Jul 2015

Top 10 Large Counties with Fastest Job Growth in 2014: Employment Levels Grew Fastest in Kings County-NY, Riverside County-CA, Travis County-TX; Slowest in Fairfax County-VA, Allegheny County-PA, Cuyahoga County-OH

Recently released data show that job growth across large counties in the US varied from a high of 5.7% in Kings County, NY (Brooklyn) to a low of -1.2% in Fairfax County, VA (DC).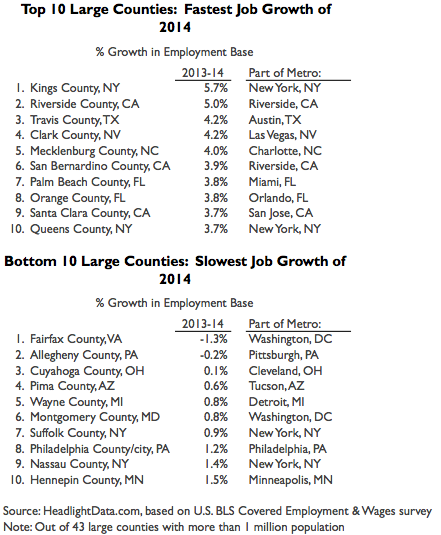 Large counties (1 million or more population) with the fastest employment growth in 2014 were Kings County, NY; Riverside County, CA; Travis County, TX; Clark County, NV; and Mecklenburg County, NC.
Large counties with the slowest employment growth were Fairfax County, VA; Allegheny County, PA; Cuyahoga County, OH; Pima County, AZ; and Wayne County, MI.
Click here to download a spreadsheet of data for all counties.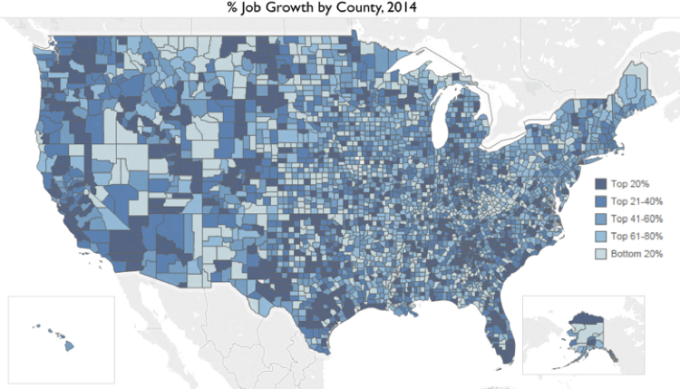 Previous Post
Tool makes corporate site selection analysis quick and easy for any city, county, or metro ... Read more
Next Post
Recently released data show that wages grew 3.1% in 2014 in the US, the fastest ... Read more