19 Aug 2015

Top 10 Counties with Best and Worst Performing Holding Company Economies of 2014: Harris County-TX / Houston Creates the Most Jobs at Holding Companies; Fairfax County-VA / Washington DC Loses the Most

Recently released data show that jobs created in 2014 by holding companies across counties in the US varied from a high of 9,600 in Harris County-TX (Houston) to a loss of 2,600 jobs in Fairfax County-VA (Washington DC). "Holding Companies" includes the owning or management of other operating companies (NAICS 55: Management of Companies and Enterprises).

Out of more than 1,100 counties with holding company economies, the Top 5 job creators also included Dallas County-TX (Dallas), Johnson County-KS (Kansas City), Franklin County-OH (Columbus), and Dane County-WI (Madison).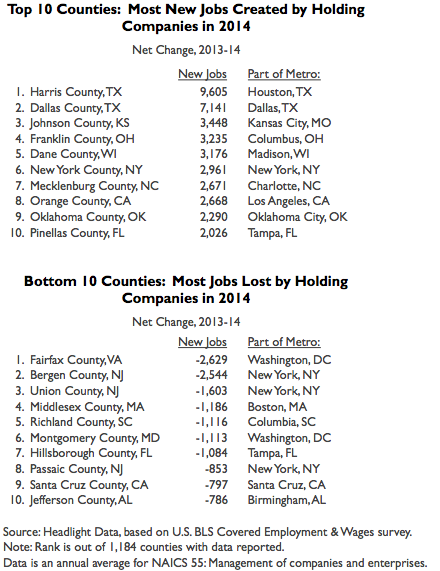 Holding company job losses were highest in Fairfax County-VA (DC), Bergen County-NJ (NYC), Union County-NJ (NYC), Middlesex County-MA (Boston), and Richland County-SC (Columbia).
Job creation in the holding companies sector in the US has steadily grown. In the last 5 years, the sector grew 16% and created 300,000 new jobs. The sector currently employs 2.2 million people in the US.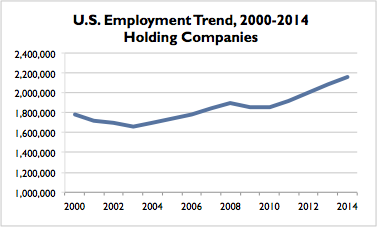 Click here to download a spreadsheet of data for all counties.
Note: Permission is granted to re-publish, reference, quote or link back to this content, including charts and tables, as long as Headlight Data is appropriately cited as the source.
Previous Post
Recently released data show that agriculture job creation in 2014 across counties in the US ... Read more
Next Post
Recently released data from the Internal Revenue Service shows that county-to-county net migration (total in-migrants ... Read more