14 Jul 2015

Top 10 Counties with Best and Worst Manufacturing Economies of 2014: Wayne County in Detroit Creates Most Manufacturing Jobs, Los Angeles County Loses Most

Recently released data show that manufacturing job creation in 2014 across counties in the US varied from a high of 4,200 manufacturing jobs in Wayne County, MI (Detroit) to a loss of 4,800 jobs in Los Angeles County, CA.

Out of more than 2700 counties with data available, four counties in the Top 10 were in Michigan: Wayne and Macomb counties in Detroit and Kent and Ottawa counties in Grand Rapids. Three counties in the Top 10 were in California: Alameda County in San Francisco, Santa Clara County in San Jose, and San Bernardino County in Riverside.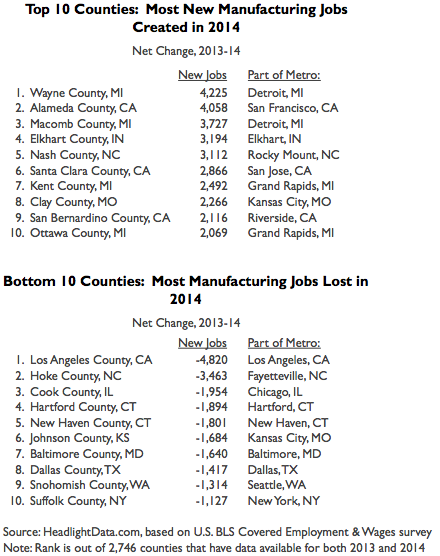 The largest manufacturing job losses occurred in major metros across the US.  Los Angeles County, CA lost 4,800 manufacturing jobs in 2014; Hoke County in Fayetteville, NC lost 3,500 jobs; and Cook County in Chicago, IL lost 2,000 jobs.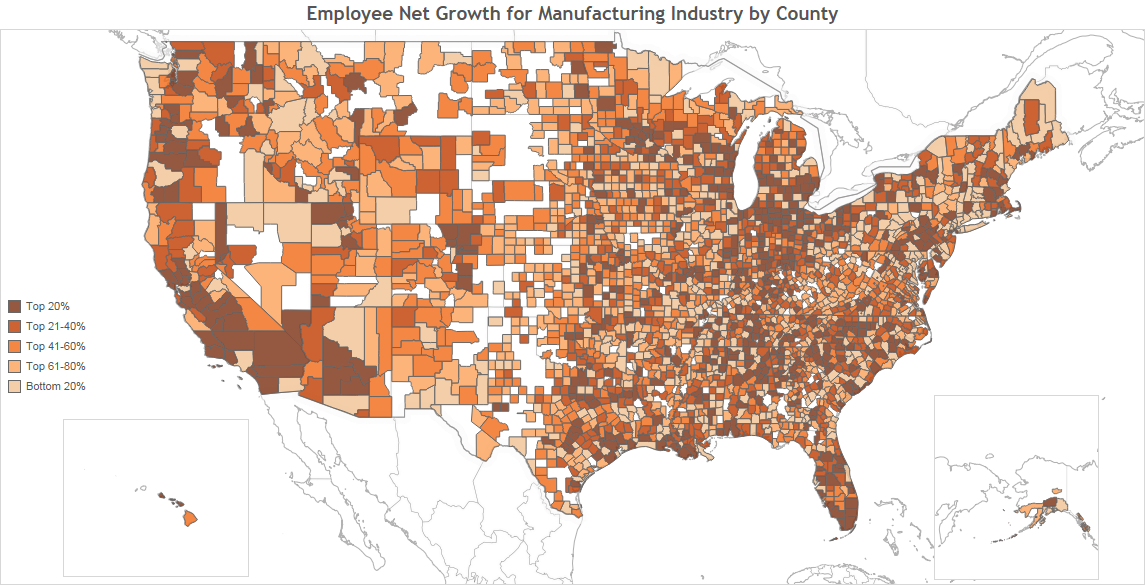 Click here to download a spreadsheet of data for all counties.
Previous Post
Recently released data show that wages grew 3.1% in 2014 in the US, the fastest ... Read more
Next Post
Recently released data show that financial services job growth in 2014 across large counties in ... Read more