12 Aug 2016

Salary Gap Lowest in Office & Administration Occupations; Highest in Legal Occupations

In a recent article, Headlight Data looked at the difference between male and female unemployment in large metros. About 60% of large metros have higher female than male unemployment. Another facet of the gender equity discussion is salary levels.

Across all occupations, male annual salaries are on average 42% higher than female salaries. The US average salary for women in 2014 was $28,300 compared with $40,200 for men.

The occupational group with the smallest difference in male and female earnings is Office & Administrative Support Occupations ($1,800 difference in 2014 median earnings). Community & Social Services ($3,100 difference), Healthcare Support ($3,300 difference) and Food Preparation & Serving Related Occupations ($3,600 difference) followed.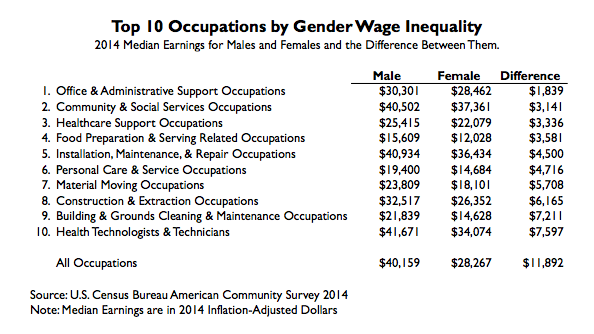 The occupational group with the largest difference in male and female earnings is Legal Occupations where males earn $107,700 on average while females earn $56,600 – a difference of $51,100. Health Diagnosing & Treatment Practitioners Occupations ($37,900 difference) and Management Occupations ($22,000 difference) followed.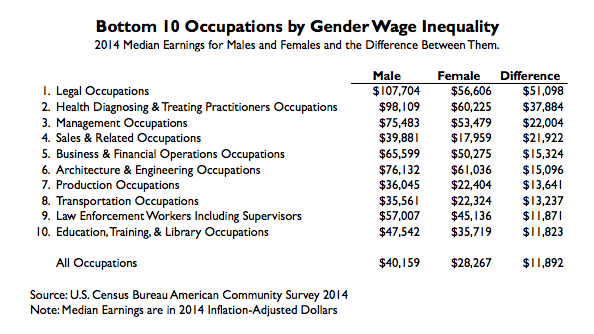 Research, analysis and content developed by Headlight Data. Original data from the U.S. Census Bureau.
About Headlight Data:
Headlight Data is an award-winning online data aggregator, designed for economic and workforce development organizations, that provides online, decision-support tools on the economy, demographics, education, workforce and public policy.
Previous Post
Recently released data from the U.S. Bureau of Labor Statistics show the large metros with ... Read more
Next Post
Women in the US are more likely to be unemployed than men – meaning, more ... Read more