17 Dec 2015

Top Large Metros for Millennials are Austin-TX, Salt Lake City-UT, San Diego-CA; Bottom are Cleveland-OH, Detroit-MI, Tucson-AZ

Recently released data from the U.S. Census Bureau's American Community Survey illuminates which large metros are host to the greatest percentage of adults aged 25-34, commonly known as the Millennial Generation or Generation Y.

Millennials constitute 13.5% of the U.S. population. Among large metros, the highest percentage of millennials is found in Austin (17.5%). Salt Lake City (16.3%), San Diego (16.2%) and Seattle (16.0%) follow. Other large metros with a high share of millennials are Denver, San Francisco and Washington DC.

The large metros with the lowest percentage of millennials are Cleveland (12.2%), Detroit (12.2%) and Tucson (12.2%). Hartford, Tampa and Providence also have a low share of millennials compared to other large metros.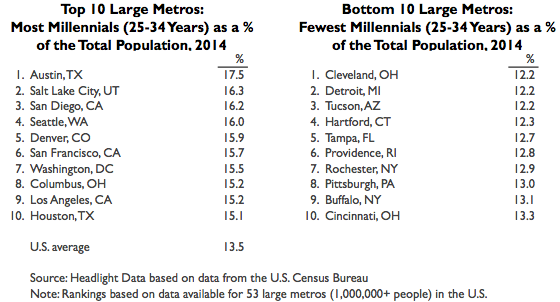 From 2009 to 2014, millennials' share of the U.S. population remained constant.  The large metros with the greatest 5-year increase in the percentage of millennials are Rochester (+1.9 pts.), Buffalo (+1.1 pts.) and Virginia Beach (+1.1). Pittsburgh, Richmond, New Orleans, Washington DC and San Diego also increased at least 1 percentage point.
Salt Lake City (-2.2 pts.), Tucson (-2.0 pts.) and Phoenix (-1.7 pts.) had the greatest decrease in the percentage of millennials from 2009 to 2014. Raleigh and Austin also decreased at least 1.5 percentage points.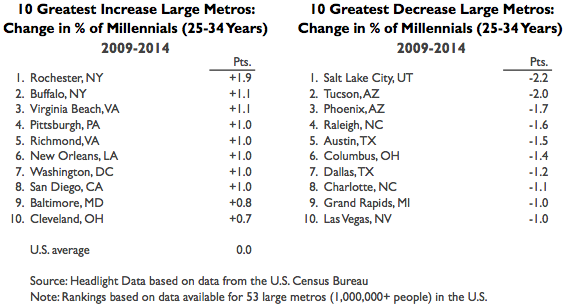 Research, analysis and content developed by Headlight Data.  Original data from the U.S. Census Bureau.  
About Headlight Data:
Headlight Data is an award-winning online data aggregator, designed for economic and workforce development organizations, that provides online, decision-support tools on the economy, demographics, education, workforce and public policy.
Download Section:
Click here to download a spreadsheet of the data.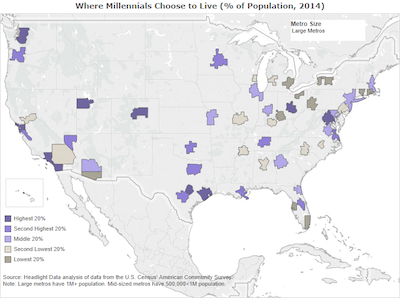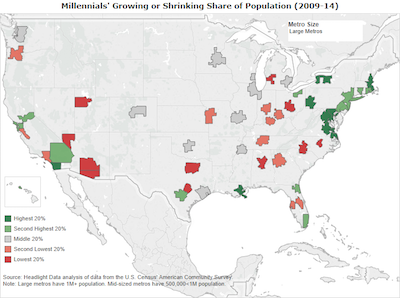 Previous Post
Recently released data from the U.S. Census Bureau's American Community Survey illuminates which mid-sized metros ... Read more
Next Post
Recently released data from the U.S. Census Bureau's American Community Survey illuminates which mid-sized metros ... Read more