07 Dec 2015

Lowest Unemployment Rates Among Mid-Sized Counties Found in Fargo-ND, Lincoln-NE, Boulder-CO; Highest Unemployment in Yuma-AZ, El Centro-CA, Visalia-CA

The September unemployment rates in mid-sized counties (150,000 – 500,000 people) range from 1.9% to 26.0%.

Unemployment is lowest in Cass County (1.9%) in Fargo, ND; Lancaster County (2.2%) in Lincoln, NE; and Boulder County (2.6%) in Boulder, CO. Low employment mid-sized counties are also found in Denver, Rochester, and Omaha metros.

The highest unemployment is found in Yuma County (26.0%) in Yuma-AZ, Imperial County (21.6%) in El Centro-CA, and Tulare County (9.9%) in Visalia-CA.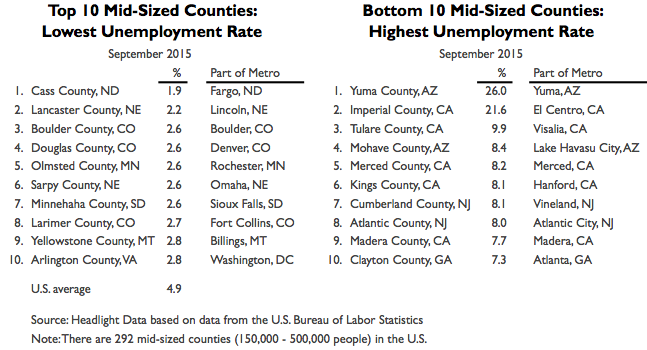 167 mid-sized counties saw unemployment increase from 2005 to 2015 and 125 registered a decrease.
Unemployment decreased the most in Harrison County (-18.7 pts.) in Gulfport-MS; East Baton Rouge Parish (-6.2 pts.) in Baton Rouge-LA; and Saginaw County (-2.7 pts.) in Saginaw-MI.
The largest increase in unemployment was in Yuma County (8.2 pts.) in Yuma-AZ; Mohave County (4.0 pts.) in Lake Havasu City-AZ; and Imperial County (3.0 pts.) in El Centro-CA.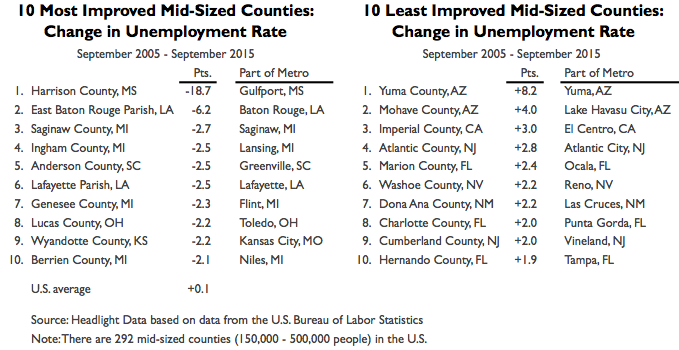 Click here to download a spreadsheet of the data.
Research, analysis and content developed by Headlight Data.  
Original data from the U.S. Bureau of Labor Statistics.  
About Headlight Data: Headlight Data is an award-winning online data aggregator, designed for economic and workforce development organizations, that provides online, decision-support tools on the economy, demographics, education, workforce and public policy.
Previous Post
Wage growth inequality can be defined as the difference between the wage growth for two ... Read more
Next Post
With the U.S. unemployment rate falling to 4.9% in September, rates in large counties (500,000+ ... Read more