07 Dec 2015

Lowest Unemployment Rates Among Large Counties Found in Madison-WI, San Francisco-CA, Denver-CO; Highest Unemployment in Bakersfield-CA, Fresno-CA, Modesto-CA

With the U.S. unemployment rate falling to 4.9% in September, rates in large counties (500,000+ people) range from 2.7% to 8.4%.

Unemployment is lowest in Dane County (2.7%) in Madison, WI; San Mateo County (3.0%) in San Francisco; and Jefferson County (3.0%) in Denver.  Low unemployment counties are also found in Omaha, Provo, and Kansas City metros.

The highest unemployment is found in Kern County (8.4%) in Bakersfield-CA, Fresno County (8.1%) in Fresno-CA, and Stanislaus County (7.6%) in Modesto-CA.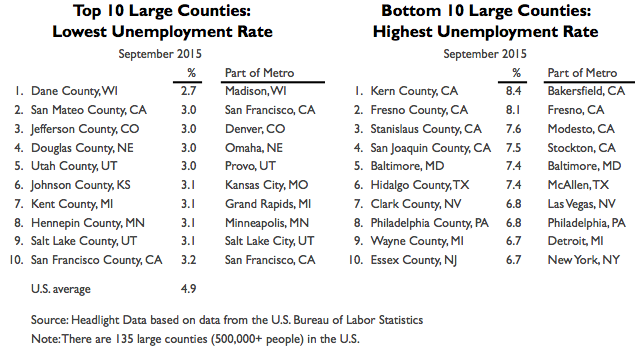 The U.S. unemployment rate today is nearly identical to the rate in 2005 (just 0.1 percentage points higher). Seventy large counties saw unemployment increase and 65 registered a decrease.
Unemployment decreased the most in Kent County (-2.4 pts.) in Grand Rapids-MI; Denver County (-1.9 pts.) in Denver-CO; and Franklin County (-1.8 pts.) in Columbus-OH.
The largest increase in unemployment was in Miami-Dade County (2.9 pts.) in Miami-FL; Clark County (2.6 pts.) in Las Vegas-NV; and Brevard County (2.1 pts.) in Palm Bay-FL.  Seven of the 10 least improved large counties are located in Florida, due to very low unemployment rates in 2005.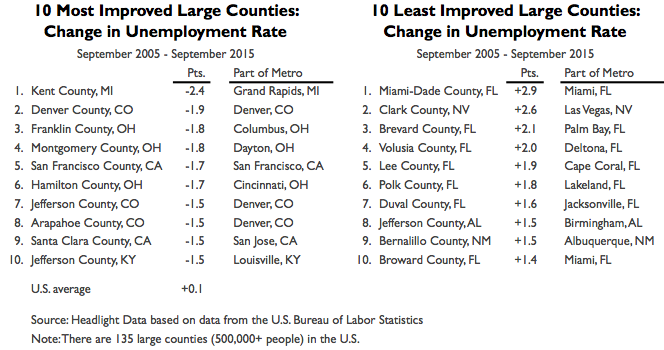 Click here to download a spreadsheet of the data.
Research, analysis and content developed by Headlight Data.  Original data from the U.S. Bureau of Labor Statistics.  
About Headlight Data:
Headlight Data is an award-winning online data aggregator, designed for economic and workforce development organizations, that provides online, decision-support tools on the economy, demographics, education, workforce and public policy.
Previous Post
The September unemployment rates in mid-sized counties (150,000 – 500,000 people) range from 1.9% to ... Read more
Next Post
Recently released data from the U.S. Census Bureau's American Community Survey illuminates which mid-sized metros ... Read more