14 Apr 2016

Fastest Growing Mid-Sized Metro Economies of 2015 are Fayetteville-AR, Provo-UT, Cape Coral-FL; Slowest are Scranton-PA, Youngstown-OH, Allentown-PA

Recently released data from the U.S. Bureau of Labor Statistics illuminates which mid-sized metros have the fastest growing economies. Growth is measured by the percentage change in employment between Dec. 2014 and Dec. 2015. Headlight Data ranks employment growth for the 52 mid-sized metros (500,000 – 1,000,000 people) in the U.S.

In 2015, U.S. employment grew 2.0%. Among mid-sized metros, the highest percentage growth is found in Fayetteville-AR (4.9%). Provo-UT (4.5%), Cape Coral-FL (4.4%) and Stockton-CA (4.4%) follow. Other mid-sized metros with rapidly growing economies are Ogden-UT, Deltona-FL and Santa Rose-CA.

Four mid-sized metros have shrinking economies. The greatest employment decline is found in Scranton-PA (-0.4%). Youngstown-OH (-0.3%), Allentown-PA (-0.1%) and Tulsa-OK (-0.1%) follow.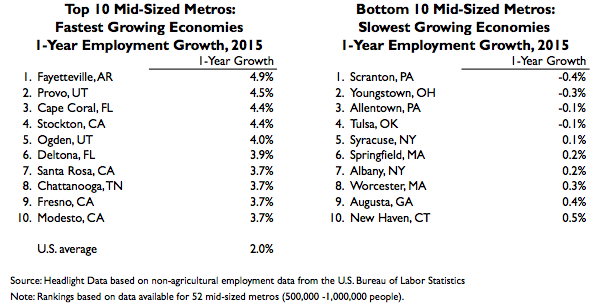 Since 2010, the U.S. growth rate has increased 1.2 percentage points. The mid-sized metros showing the most improvement (with the greatest increase in the annual growth rate) are Stockton-CA (+7.2 pts.), Deltona-FL (+5.2 pts.) and Lakeland-FL (+4.3 pts.). Fresno-CA, Ogden-UT and Fayetteville-AR also experienced a substantial improvement.
Seventeen mid-sized metros have slowed since 2010. The mid-sized metros with the largest declines in growth rate are Allentown-PA (1.9 pt. decrease), Youngstown-OH (-1.5 pts.) and Scranton-PA (-1.5 pts.). Other metros with a declining growth rate since 2010 are Bakersfield-CA, Springfield-MA and Worcester-MA.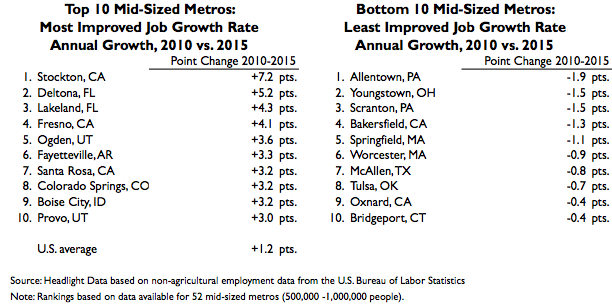 Research, analysis and content developed by Headlight Data. Original data from the U.S. Bureau of Labor Statistics.
About Headlight Data:
Headlight Data is an award-winning online data aggregator, designed for economic and workforce development organizations, that provides online, decision-support tools on the economy, demographics, education, workforce and public policy.
Download Section:
Click here to download a spreadsheet of the data.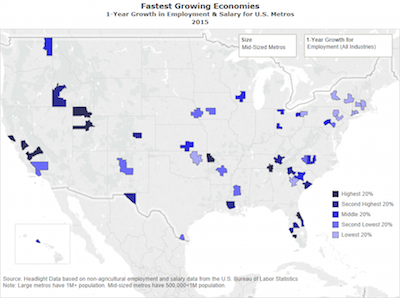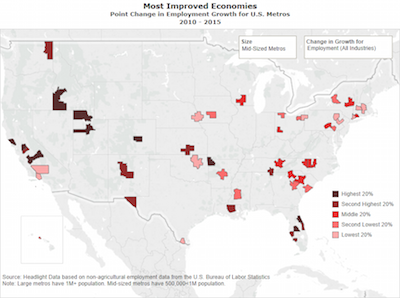 Previous Post
Recently released data from the U.S. Bureau of Labor Statistics illuminates which mid-sized metros have ... Read more
Next Post
Recently released data from the U.S. Bureau of Labor Statistics illuminates which large metros have ... Read more