14 Apr 2016

Fastest Growing Large Metro Private Sector Salaries of 2015 found in Columbus, Virginia Beach, Birmingham; Highest Salaries in San Jose, Seattle, San Francisco

Recently released data from the U.S. Bureau of Labor Statistics illuminates which large metros have the fastest growing private sector salaries. Growth is measured by the percentage change in average annual salary between Dec. 2014 and Dec. 2015. Headlight Data ranks salary growth for the 53 largest metros (1,000,000+ people) in the U.S.

In 2015, U.S. private sector salaries grew 2.6%. Among large metros, the highest growth is found in Columbus (9.4%). Virginia Beach (7.6%), Birmingham (6.8%), and Boston (5.8%) follow. Other large metros with rapidly growing salaries are Rochester, Milwaukee and Seattle.

Seven large metros saw salaries decline. St. Louis (-1.6%), Dallas (-1.6%) and Oklahoma City (-1.6%) ranked lowest for growth.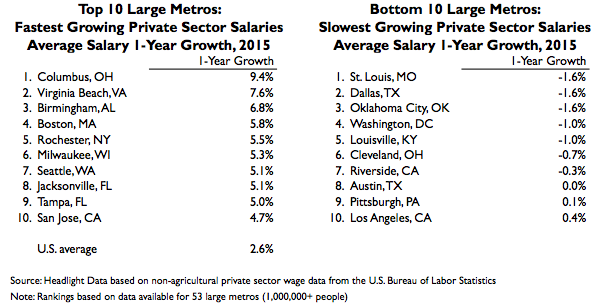 In 2015, the average annual salary in the U.S. was $52,000. The highest salaries among large metros are found in San Jose ($85,000), Seattle ($72,000) and San Francisco ($72,000). The metros with the lowest salaries are Riverside ($44,000), San Antonio ($45,000) and Memphis ($45,000).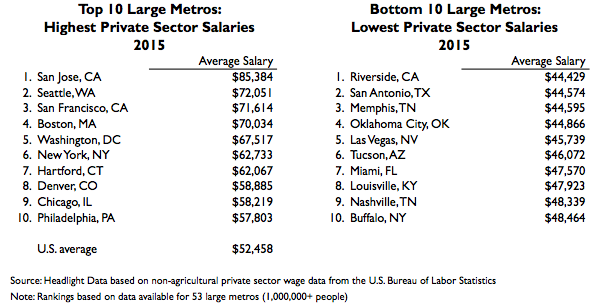 Research, analysis and content developed by Headlight Data. Original data from the U.S. Bureau of Labor Statistics.
About Headlight Data:
Headlight Data is an award-winning online data aggregator, designed for economic and workforce development organizations, that provides online, decision-support tools on the economy, demographics, education, workforce and public policy.
Download Section:
Click here to download a spreadsheet of the data.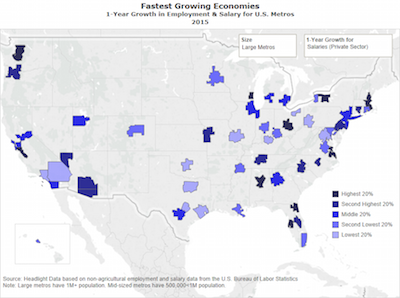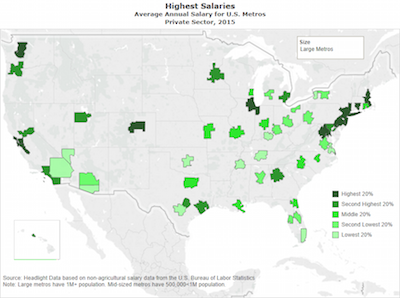 Previous Post
Recently released data from the U.S. Bureau of Labor Statistics illuminates which mid-sized metros have ... Read more
Next Post
Recently released data from the U.S. Bureau of Labor Statistics illuminates which large metros have ... Read more