27 Jul 2016

Counties with Best and Worst Manufacturing Economies of 2015: San Diego County (San Diego, CA) Creates Most Manufacturing Jobs; Macomb County (Detroit, MI) Loses Most

Recently released data show that manufacturing job creation in 2015 across counties in the US varied from a high of 7,500 manufacturing jobs in San Diego County (San Diego, CA) to a loss of 7,000 jobs in Macomb County (Detroit, MI).

Out of more than 2,700 counties with data available, 4 counties in the Top 10 were in California: San Diego County, Alameda County, San Bernardino County and Santa Clara County. Two counties were in Michigan: Wayne County and Eaton County.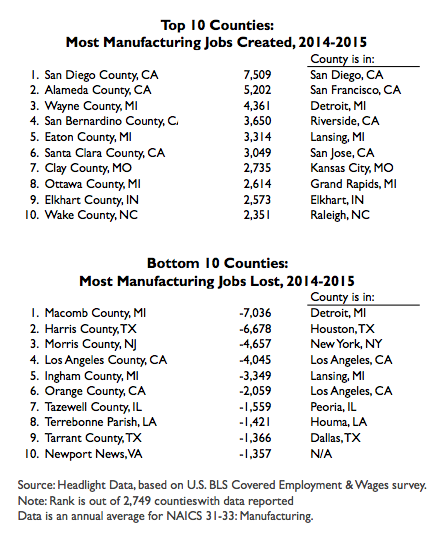 The largest manufacturing job losses occurred in major metros across the US. Macomb County (Detroit, MI) lost 7,000 jobs, followed by Harris County (Houston, TX) with a loss of 6,600 jobs.
Interact with the following map to see net new employment in the Manufacturing Industry:
Job creation in the Manufacturing sector has risen 7% in the last 5 years following a steady decline from 2000-2010. 800,000 new jobs have been created and the industry currently employs 12 million people in the US.

Research, analysis and content developed by Headlight Data. Original data from the Bureau of Labor Statistics.
About Headlight Data:
Headlight Data is an award-winning online data aggregator, designed for economic and workforce development organizations, that provides online, decision-support tools on the economy, demographics, education, workforce and public policy.
Download Section:
Click here to download a spreadsheet of the data. 
Permission is granted to embed maps in any website. Click the "Share" button on the map to get the embed code.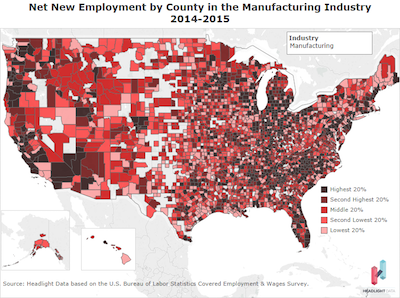 Previous Post
Recently released data show that oil, gas and mining job creation in 2015 across counties ... Read more
Next Post
Recently released data show that food manufacturing job creation in 2015 across counties in the ... Read more