09 Sep 2015

Counties Attracting Most New Taxpayer Income in 2013 Are in Austin-TX, Miami-FL, Naples-FL, Phoenix-AZ, and Las Vegas-NV; Counties in Los Angeles, Chicago, and New York City Lose Most Income

Recently released data from the Internal Revenue Service shows that county-to-county net migration (total in-migrants minus out-migrants) of Total Gross Income is the highest in Travis County, TX (Austin), which gained a net of $2.4 billion in 2013 new tax payers relocating from outside the Austin metro. Intra-metro relocations were excluded from this analysis.

Palm Beach County, FL (in the Miami metro) attracted $1.6 billion net new Gross Income, followed by Collier County, FL ($1.4 billion), Maricopa County, AZ ($1.0 billion) and Clark County, NV ($1.0 billion).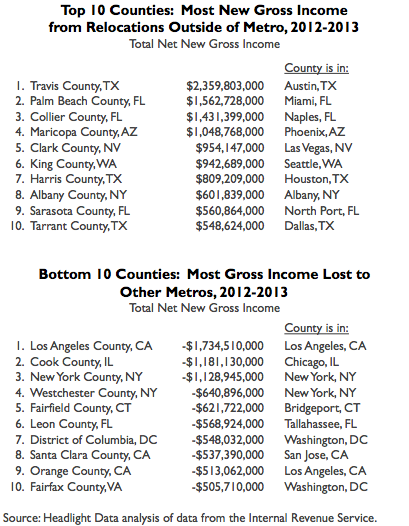 The highest levels of Gross Income were lost by Los Angeles County, CA (-$1.7 billion), Cook County, IL (-$1.2 billion) in Chicago, and New York County, NY (-$1.1 billion).
Click here to download a spreadsheet of data for all counties.
Previous Post
Recently released data from the Internal Revenue Service shows that county-to-county net migration (total in-migrants ... Read more
Next Post
This map shows migration trends between counties from 2012-2013 based on IRS tax return data. ... Read more