22 Jul 2015

Best Performing Hotel & Tourism Economies: Nashville TN, Tampa Bay FL, Riverside CA are Fastest Growing Hotel Economies Among Tourism-Heavy Counties

New research shows that job growth in Hotel Accommodations in 2014 among the top 50 tourism-heavy counties in the US varied from a high of 6.8% growth in Davidson County, TN (Nashville) to -13.4% in Atlantic County, NJ (Atlantic City).  The Accommodation sector includes Traveller Accommodations (hotels and motels) as well as RV Parks and Rooming and Boarding Houses.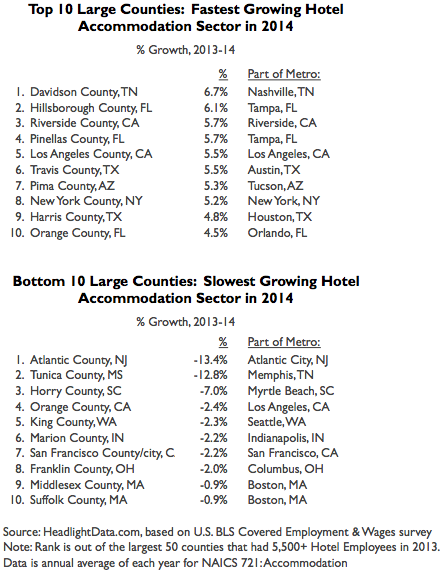 Out of 50 counties with the largest Hotel sectors, Davidson County TN (Nashville) led growth, followed by Hillsborough County FL (Tampa Bay), Riverside County CA (Riverside), Pinellas County FL (Tampa), and Los Angeles County CA (Los Angeles).
Large counties that declined the most include Atlantic County NJ (Atlantic City), Tunica County MS (Memphis), Horry County SC (Myrtle Beach), Orange County CA (Los Angeles), and King County WA (Seattle).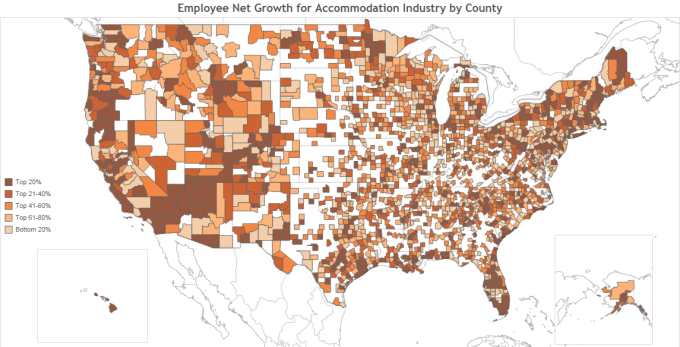 Click here to download a spreadsheet of the data.
Note: Permission is granted to re-publish, reference, quote or link back to this content, including charts and tables, as long as Headlight Data is appropriately cited as the source.
Previous Post
Recently released data show that Construction job growth in 2014 among large counties (1+ million ... Read more
Next Post
Recently released data show that oil, gas, and mining job creation in 2014 across counties ... Read more