12 Aug 2016

Best Large Job Markets for Women Found in Buffalo, Pittsburgh, and Philadelphia

Women in the US are more likely to be unemployed than men – meaning, more women can't find work when they want to work.

However, in 20 large metros, women have lower unemployment rates than men. In this article, we examine US Census data for the largest 53 metros (1+ million population) to find the best job markets for women.

About 40% of large metros have a lower unemployment rate for women than men. This unemployment disparity was the lowest in Buffalo, where the female unemployment rate was 1.4 percentage points lower than that of men in 2014. Pittsburgh, Philadelphia, Cleveland and Hartford rounded out the top 5 metros for women workers.

Gender employment equity is worst in Jacksonville where the unemployment rate in 2014 was more than 2 percentage points higher for women than men. Portland, Riverside and Birmingham followed.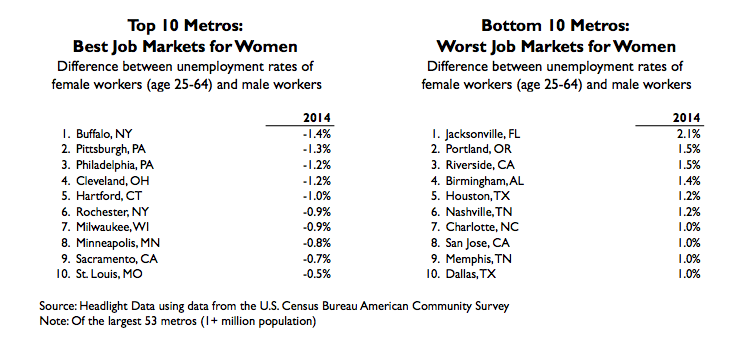 Research, analysis and content developed by Headlight Data. Original data from the U.S. Census Bureau.
About Headlight Data:
Headlight Data is an award-winning online data aggregator, designed for economic and workforce development organizations, that provides online, decision-support tools on the economy, demographics, education, workforce and public policy.
Download Section:
Click here to download a spreadsheet of the data. 
Permission is granted to embed maps in any website. Click the "Share" button on the map above to get the embed code.
Static map image for download: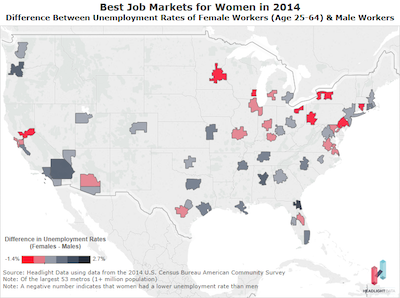 Previous Post
In a recent article, Headlight Data looked at the difference between male and female unemployment ... Read more
Next Post
The real median wage in the U.S. increased 1.3% from 2005 to 2015, after accounting ... Read more