22 Jul 2015

Best and Worst Performing Construction Economies of 2014: Riverside CA, Miami-Dade FL, Broward FL Grew Fastest Among Large Counties; Fairfax VA, Pima AZ, Cuyahoga OH Were Worst Performing

Recently released data show that Construction job growth in 2014 among large counties (1+ million pop.) in the US varied from a high of 11.5% growth in Riverside County CA to a declining -4% in Fairfax County VA (DC).

Out of the large 43 counties, four counties in the Top 10 were in Florida:  Miami-Dade and Broward (Miami), Palm Beach, and Orange (Orlando). Two counties were in California: Riverside and San Bernardino (both in Riverside metro).  Remaining counties were found in Las Vegas, Austin, Seattle, and New York City metros.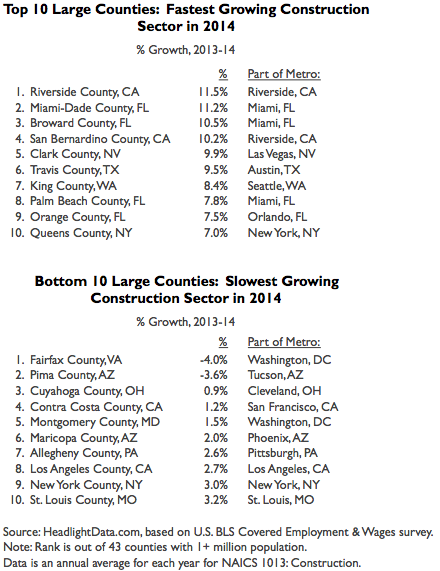 Among large counties, the slowest growth in Construction employment was in Fairfax County VA (DC), Pima County AZ (Tucson), Cuyahoga County OH (Cleveland), Contra Costa County CA (San Francisco), and Montgomery County MD (DC).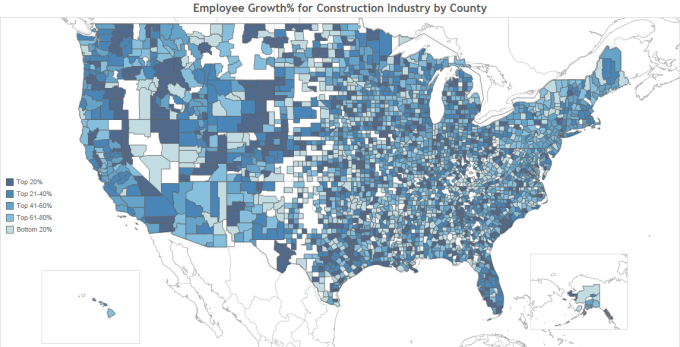 Click here to download a spreadsheet of data for large counties.
Previous Post
Recently released data show that financial services job growth in 2014 across large counties in ... Read more
Next Post
New research shows that job growth in Hotel Accommodations in 2014 among the top 50 ... Read more